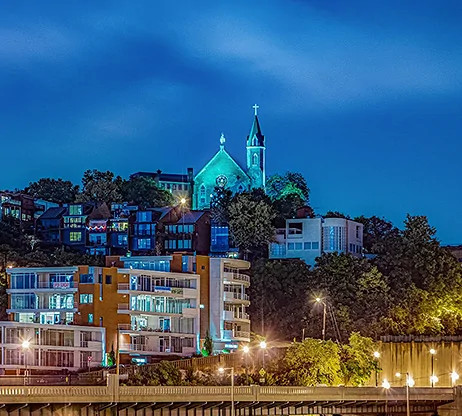 A gem of a neighborhood perched high on a hill overlooking downtown Cincinnati, the Ohio River and Northern Kentucky, Mount Adams lives up the its name. It once held the world's most powerful observatory and in 1843 President John Quincy Adams delivered the dedication address, so the hill was named Mount Adams after him.
Mount Adams has become a magnet for young professionals and families who might have originally been lured by the nightlife but stayed for the views. There is seemingly something for everyone here, devoid of chain restaurants, but instead an inspiring array of cozy bistros and intimate cocktail bars, the Cincinnati Art Museum, Playhouse in the Park and Eden Park. Eden Park gets its name from Nicholas Longworth, America's second richest man in the early 1800's who grew grapes in his 'Garden of Eden' to create his famous Golden Wedding Champagne. This helped qualify Mount Adams as the birthplace of the American Wine Industry.
The narrow, winding, often cobblestone streets of Mount Adams boasts historic, densely packed, yet charming row homes, often times built right into the hill. Its close proximity to downtown, as well as its stunning views, make living here priced on the higher end.