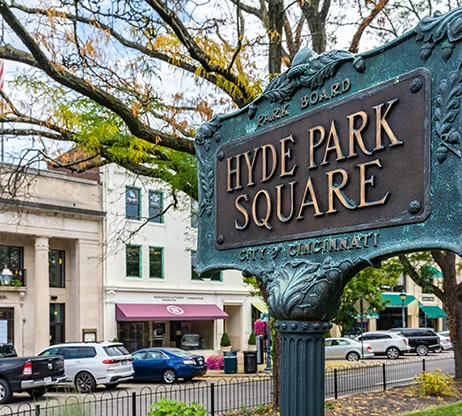 Hyde Park is one of the most desired locations to live in the city with easy access to almost everything. Established in 1892, it was named after the elegant Hyde Park of New York. Hyde Park offers walkability to Rookwood, Mount Lookout Square, Oakley Square, and of course, at the center of the town, Hyde Park Square. These are some of the city's finest destination for shopping, coffee, dining, and nightlife. Hyde Park also contains two country clubs, The Cincinnati Country Club and The Hyde Park Country Club.
Hyde Park Square, with its iconic fountain, serves as a meeting place for all ages and all walks of life. It features privately owned restaurants, boutiques, galleries and salons. Every Sunday from May to October the square shuts down traffic to host a farmers market featuring local produce and goods.
Hyde Park is just under five miles northeast of downtown Cincinnati and the real estate mostly consists of large homes built in the early 1900's, but have been meticulously maintained and updated throughout the years. Home buyers can choose from variously sized lots, some even boasting river and city views. While Hyde Park is a historic neighborhood, it still remains the place to be.